---
Elegant, Effective, Powerful, Free
SMF is all that in one package, giving you an easy to use forum with many powerful features for you as well as your users. SMF is an open-source project made by volunteers from across the world.
Download SMF
Learn More
Easily Customizable
SMF features a powerful Package Manager, allowing you to quickly apply any of the hundreds of modifications in our database, as well as a variety of custom themes that change the way your site looks.
Customize Site
High Quality Support
Should you run into any problem, SMF's experienced Support Team will come to your aid, along with our very helpful community members, ready to assist you and address whatever issue(s) you are encountering.
Learn More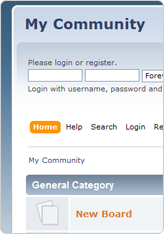 Simple Machines Forum — SMF in short — is a free, professional grade software package that allows you to set up your own online community within minutes.
Its powerful custom made template engine puts you in full control of the layout of your message board and with our unique SSI - or Server Side Includes - function you can let your forum and your website interact with each other.
SMF is written in the popular language PHP and uses a MySQL database. It is designed to provide you with all the features you need from a bulletin board while having an absolute minimal impact on the resources of the server. SMF is the next generation of forum software - and best of all it is and will always remain completely free!
Latest news
SMF 2.1 RC1 released
Simple Machines is pleased to announce the release of SMF 2.1 RC1. This first Release Candidate for SMF 2.1 brings the beta development phase to an end and is one of last steps toward the official release of SMF 2.1. ...
---
Tue, 05 Feb 2019 00:31:40 GMT
SMF 1.1.* status update
In order to provide enhanced support and focus development on upcoming releases, the Simple Machines Forum Team is announcing that version 1.1 of our software will no longer be receiving updates.

SMF 1.1 is outdated ...
---
Fri, 23 Mar 2018 18:24:45 GMT
SMF 2.0.15 Released
Dear Members,

Simple Machines Forum has released a new patch to the 2.0.x line, bringing our latest release version to 2.0.15.

This patch adds both important security and general maintenance fixes to your for...
---
Mon, 20 Nov 2017 00:47:44 GMT
Learn SMF
If you want to learn how to use SMF or to help yourself to make changes to your forum, you can search our Online Manual to find answers about our software. You are also welcome to help with maintaining, revising, updating, or even translating the documentation by contributing to discussions in the Documentation Help board.
Doc Helper Board
Online Manual
Localize SMF
If you want to help to translate SMF or the SMF Wiki (Online Manual) into other languages, you can ask to become a translator for the language which is of interest to you. If SMF is not translated into your language, you can also apply to translate it. You are also welcome to provide support in your native language in our foreign language support boards.
Become a Translator
Improve SMF
If you wish to contribute to the development of SMF you can contribute to the coding discussions taking place on Github. You are also welcome to suggest features which you would like to see added to the software in our Feature Requests board. Please bear in mind that it will not always be possible to implement requested features, but suggestions will always be read.
GitHub (SMF 2.1)
Feature Requests
"Give me the place to stand, and I shall move the earth" — Archimedes